CANINE HOOPERS CLASSES
For any age of dog from 6 months upwards.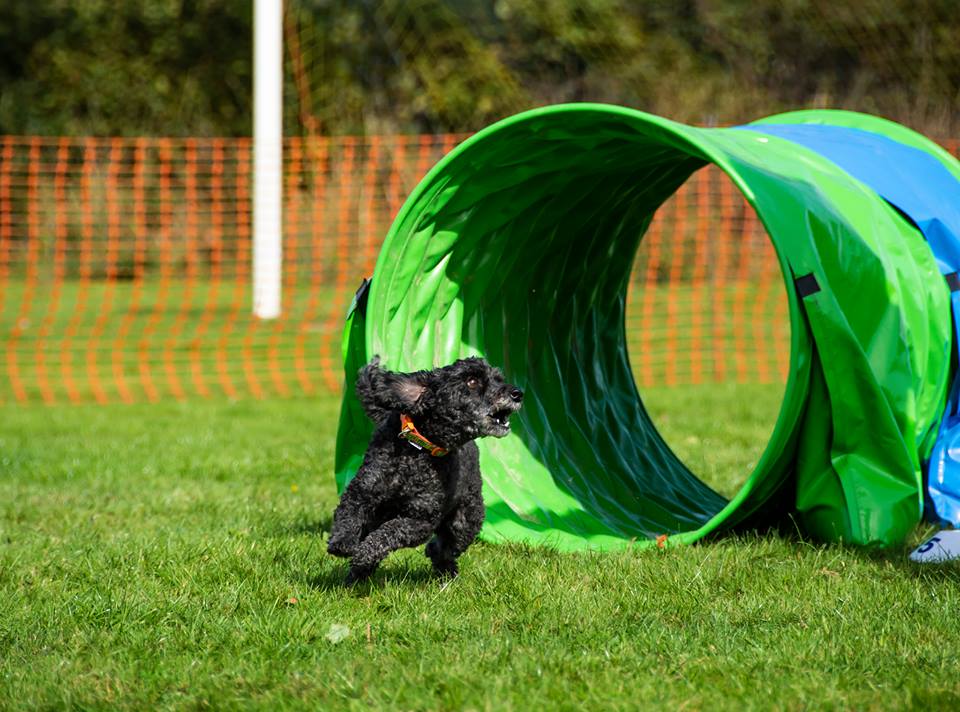 Canine Hoopers is a new and upcoming dog sport in the UK. To learn a little more about what it is all about, take a look at the promotional video HERE.
It is low impact, so is suitable for dogs of all ages (including puppies!), and uses equipment which is accessible for dogs of all sizes, from mini to giant!
The basic equipment comprises of hoops, big 80cm diameter tunnels and barrels to run around. Hoopers courses are designed to encourage distance handling which is great for handlers of all abilities - no sprinting is required!
Our classes are based around the Good Hoopers Awards of Foundation, Bronze, Silver and Gold.
The classes are taken by Emma Cowie-Shaw who qualified as an Accredited Canine Hoopers UK Instructor in 2018. She is also a Platinum member of the UK Hoopers Pro Instructor network, teaching Hoopers skills from complete beginners to competition level.


Requirements
For your dog to be able to attend these classes:
- Your dog must be comfortable working in a group environment.
- Your dog must be able to focus on you, their owner, when carrying out practical exercises.
- Your dog must have a good recall and not be overly interested in the other dogs in the arena.

Handlers must have completed the Hoopers Foundation Workshop prior to starting the Canine Hoopers Classes. If you haven't attended our Hoopers Foundation Workshop, you can do so by booking online HERE.


The Weekly Classes
Our weekly classes run in blocks of 6 sessions running on Sunday mornings at the indoor arena at Brookfield Equestrian Centre in Brindle.
These classes cover all of the fundamental behaviours you need to know to be able to start working through the Good Hoopers Awards and completing simple Hoopers courses, building on the foundation topics covered during the introductory workshop.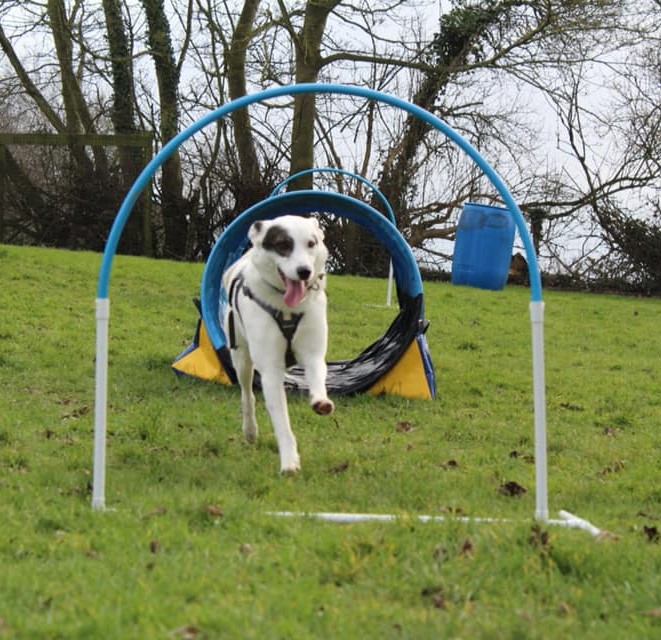 During the sessions we will cover topics such as:
- Dog-handler focus
- Dog-handler interaction for success and drive
- Adding start line waits to the equipment
- Introducing the dog to corners
- Teaching the dog front and rear cross techniques using the equipment
- Introducing the dog to run multiple pieces of equipment in a sequence
- Spacing out the equipment to course competition standard
- Adding handler distance
- Sending the dog ahead
- Perfecting verbal cues / body signals
- Practicing simple Hoopers courses using multiple pieces of equipment
If you wish to work towards the Good Hoopers Awards, you will be assessed throughout the classes. Those who pass their assessment will receive an official GHA certificate and a fabulous rosette!


Please note:- Dogs must be a minimum of 12 months to be eligible for assessment for the Good Hoopers Bronze Award. This helps to protect young dogs that are still going through the developmental joint growth stage. But fear not! - if your pup is under the age of 12 months, you can still work towards the Good Hoopers Foundation Award during the classes.

UPCOMING COURSE START DATES:
- Classes are temporarily suspended due to Covid but will be resuming from April.

CONTACT US if you would like to be added to the waiting list for the next course.


£85 for a 6-week block of classes