ONLINE PUPPY FOUNDATION PROGRAM
Our Online Puppy Foundation Program has been designed so that people can continue to train their puppies during their all-important early development from the comfort and safety of their own homes. Don't understimate the value of starting training early.
This program is for puppies aged under 6 months at the start of the course.
This is a 6-week progressive program which takes place via a private online learning hub on our website. The learning material contains step-by-step training exercises which are supported by around 30 practical video demos, along with detailed topics about the important aspects of new puppy ownership.
We encourage you to send us videos demonstrating your training practice as you progress so that we can further support your training as it develops and help you to get the most out of your puppy's training journey.
During this online training program we cover the same topics that we would cover in a group training class; the only difference is that you won't be seeing the instructor in person - however Emma will still be on hand to assist you with your learning.
Our priority is to ensure that your puppies receive the high standard of training that we deliver in group classes, and that your puppies are being equipped with the skills that they need to set them off on the right path through life.
Puppies will graduate at the end of the 6 week program providing you can demonstrate that your puppy has the basic understanding of our core training exercises via video upload (using your phone is fine). They will receive a rosette and certificate when they graduate!


But what about Socialisation?
Many people choose to sign up to group training classes because they want to socialise their puppies while they are young. However, letting your puppy greet every dog that they see is actually detrimental to their development - which is why puppies very quickly start dragging their owners about on lead, wanting to dive and jump on every approaching dog. Teaching skills for adult life (e.g. just watching other dogs walk by without getting excited) is actually most important.
Socialisation isn't just about greeting lots of dogs - it is much more complex than that! We will set homework for you covering many different aspects of socialisation to ensure that your puppy isn't lacking in any area of their development - there is plenty you can do at home and whilst out on daily walks!!
Online training has several benefits. For starters, you can get going with your pup's training at home before they are vaccinated for walks. This gives a puppy a huge headstart. Online training also means that your puppy won't get anxious or overwhelmed in a group training environment. Group classes can be stressful for a puppy and can affect their learning potential. Plus, if you are enrolled on the online training program you can fit your training in whenever suits you best - fantastic for people who struggle to commit to a weekly class!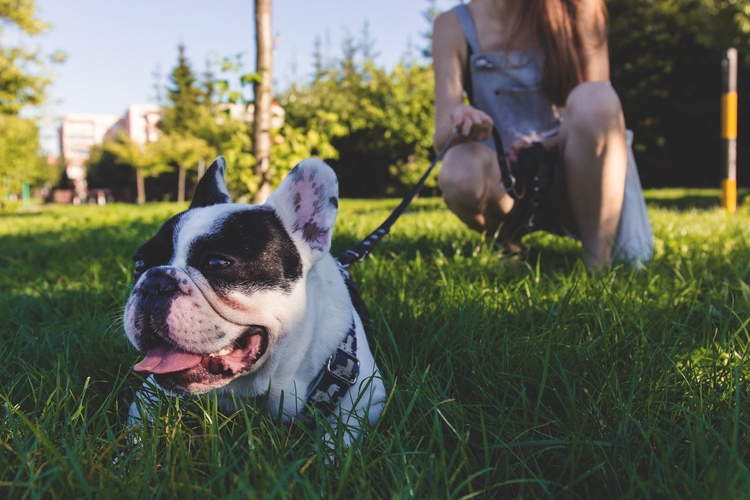 What will you learn during this program?
You will teach your puppy all the essential life skills to give them the best start possible in life:
- How dogs learn; their learning stages and how to efficiently teach them
- How to stop undesired behaviours from developing
- Building focus and connection with your dog
- How to work with what motivates your dog
- Clicker training; what is it and how do we use it to train a dog?
- Early socialisation; the do's and don'ts
- Teaching your dog to pay attention to you
- Teaching your dog to sit, stand and lie down on command
- Teaching your dog to settle and be calm
- An introduction to walking nicely on the lead
- How to train a successful recall; techniques, do's and don'ts
- Tug games and the drop command
- An introduction to the leave command
- Foundation level stay training
- Handling, health checks and grooming
- Food manners; stopping your dog snatching food from your hand
- How to manage mouthing/biting and chewing
- How to be a responsible dog owner; dog law and dog owner etiquette
What will I need for the training?
- Lots of very small training treats
- A clicker (not mandatory although beneficial)
- A mat with a non-slip rubber back - something around the size of a bathmat
- A treat pouch (optional) - having quick easy access to the treats can be beneficial
- A favourite toy or two for your puppy
- Collar/harness and fixed length lead
- Your puppy!!

The cost of the 6-week Online Puppy Foundation Program is £75. You have an additional 6 weeks' access to the private learning hub on our website after you have completed the initial 6-week training period too. If you would like to join us, CONTACT US and we can get you enrolled!