ONE TO ONE TRAINING
Our private one to one training sessions are tailored to work specifically on topics you may need a helping hand with.
During these sessions, Emma will work with you and your dog to help overcome the things you are struggling with and will help you to better understand your dog. She will assess why your dog is behaving in a particular way and will show you how to teach new acceptable behaviours.
After the session has taken place, you will be provided with a set of training notes that detail the exercises/topics covered so that you can refer back to them as needed.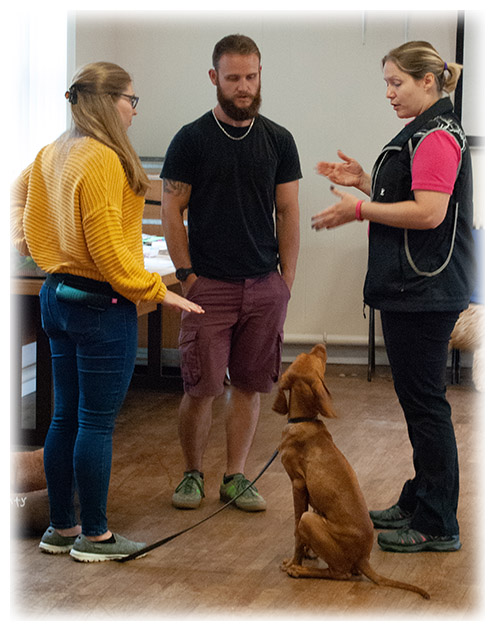 Common topics include:
- All things new puppy related!
- Teaching your dog to pay attention to you
- How to build the bond with your dog
- Managing over-arousal (excitement) in different situations
- Teaching various obedience commands such as sit, lie down, stand, leave, drop
- Teaching self-control (i.e. settles, waits and stays)
- Teaching polite greetings to humans and other dogs
- Effective recall / Solving recall problems
- Teaching your dog not to pull on the lead
- Managing over-excitable behaviour in the home (i.e. jumping, mouthing, excess energy)
- Activities and games that will help you build a better connection with your dog
- Building confidence
- Crate training
- Toilet training problems
- Socialisation advice
- Travel problems
- How to manage mouthing, chewing and nipping


Please note:- We do not take on behavioural cases such as resource guarding, aggression, separation anxiety or reactivity. For these issues, we recommend you get in touch with a dog behaviourist who is appropriately qualified in the field of dog behaviour. Because the pet industry is unregulated, anyone can call themselves a 'behaviourist'. If these types of issues are not tackled in the right way, chances are the problems will become much worse. Whoever you choose should be aligned to a professional body such as the ABTC or the APBC. Both of these organisations have registers of approved behaviourists.